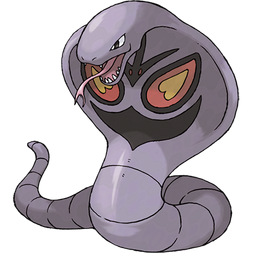 Arbok
is a Cobra-type Pokémon. He was originally part of the Claw Girls Thievery team and one of Weavile's two assistants until
Weavile
lost her 
magical
 talisman and her position as leader to 
Father
from a bet. Ever since then, Arbok resigned himself to work as part of Father's Ice Cream Men as a sign of respect to both Weavile and Father.
Arbok

Family

Unnamed Arbok Parents

Gender

Male

Friends

Weavile, Drapion, Blaze, Murkrow, Grumpig, Altaria, Shuppet, Marowak, Father, Cree, Mr. Boss, Count Spankulot, Gramma Stuffum, Knightbrace, Mr. Wink and Mr. Fibb, Common Cold, Stickybeard

Enemies

Sector V, Sector Z, Sector L1, Sector W

Crush

Weavile

Homeland

Kanto, Pokemon World

Status

Active

Good or Bad?

Bad

Skin and eye color

Purple skin, black eyes.
Relationships
Edit
Arbok, like Drapion, is very loyal to Weavile, no matter what happens between them. However, unlike Drapion, he does give out his disagreements with her plans, and from time to time he answers her in sarcastic remarks. He is smarter than Drapion, but not as Weavile and some of the others. Weavile, while not happy with Arbok's stupidity at times, greatly respects him along with Drapion as her favorite boys besides Blaze.
Appearance
Edit
Arbok is a large purple Cobra snake with the traditional split tongue. He has patterns under his neck area that represent a face.
Personality
Edit
Abilities
Edit
Arbok is voiced by Koichi-Sakaguchi. In SmashBrosNextDoor's Universe when speaking English, he is voiced by Tom Kane.