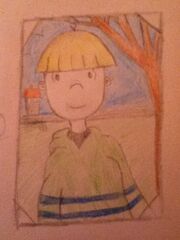 Benjamin "Ben" Joey Beatles
is the son of Wallabee Coby Beatles and Kuki Mai Beatles in Littlemissfg's universe. He is
Numbuh 304
and is the Hand-to-Hand Combat Specialist of
Sector V
. He is currently age 10, in the picture opposite.
Wallabee Coby Beatles, (Father) Kuki Mai Beatles, (Mother) Kimi Ai Beatles, (Youngist sister) and Sophie Anne Beatles. (Younger sister) Hailey Mushi Beatles. (Not born yet, but will be soon...She is Ben's sister) Zack Westley Beatles. (Not born yet, but will be soon.. He is Ben's brother)
Relationships
Edit
Ben has had a crush on Madison Catherine Drilovsky, (She is Patton's and Fanny's daughter) since he was 10. It all happened when Ben was sitting in English 102. He noticed Madison's beauty, when the sun shone on her dark brown hair.
Appearance
Edit
Ben looks like a miniature Wally, except from his blue eyes. He also wears a green and blue hoodies, instead of an orange one. He is also a bit taller than his father was.