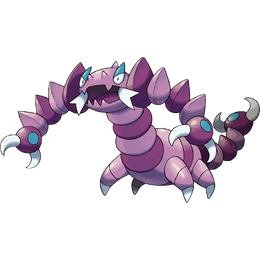 Drapion
is an Ogre-Scorpion-type Pokémon. He was originally part of the Claw Girls Thievery team and one of
Weavile
's two assistants until Weavile lost her 
magical
 talisman and her position as leader to 
Father
from a bet. Ever since then, Drapion resigned himself to work as part of Father's Ice Cream Men as a sign of respect to both Weavile and Father.
Drapion

Family:

Unnamed grandma and father

Gender:

Male

Friends:

Weavile, Blaze the Mightyena, Arbok, Murkrow, Grumpig, Father, Cree, Mr. Boss, Count Spankulot, Gramma Stuffum, Knightbrace, Mr. Wink and Mr. Fibb, Common Cold, Stickybeard

Enemies:

Sector V, Sector Z, Sector L1, Sector W

Crush:

Homeland:

Sinnoh, Pokémon World

Status:

Active

Position:

Part of Father's Ice Cream Men

Good or Bad?

Bad

Eye color:

Black eyes
Relationships
Edit
Drapion is very loyal to Weavile, no matter what happens between them, often calling her Lady Weavile (later General Weavile) out of loyalty and respect to her. Weavile, while not happy with Drapion's stupidity at times, greatly respects him along with Arbok as her favorite boys besides Blaze.
Appearance
Edit
Drapion is a large, purple, scorpion-like Pokémon. His eyes are a pointed shape, with blue-colored upper portions. Drapion has two small, pointed protrusions between hiss eyes, and one on the back of his head. Drapion also has protrusions on his jaws, two on the upper and three on the lower, with large, fang-like, white-colored features extending from his mouth. His body is composed of many violet-to-lavender body segments which ends with a tail with two stingers. Drapion has four segmented legs with pointed toes. His most distinguished feature is his huge claws. He can turn his head 180 degrees.
Personality
Edit
Abilities
Edit
Drapion is voiced by Unshō Ishizuka. In SmashBrosNextDoor's universe while speaking English, he is voiced by Garry Chalk, the same voice actor for Grounder from The Adventures of Sonic the Hedgehog cartoon.