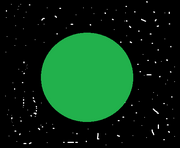 Planet Flora
is a planet of trees and plant life, and was the first world in
Operation: GALACSIA
.
The Tallest
conquered this planet and brainwashed the planet's ruler,
King Croacus
into enslaving all the children into digging in the Floro Broccoli Mines.
Flora

Inhabitants:

Viridi, King Croacus IV, Kikwi, Florans, Forces of Nature

Theme:

Forest

Location:

Galaxia

Primary element:

Plants
The racers had to race through this planet in The Great Galactic Race.
In Viridi's Last Stand, it's revealed that flora is the homeworld of the Goddess of Nature, Viridi.
Locations
Edit
Floro Broccoli Mines
Edit
The
Floro Broccoli Mines
was where the children were forced to dig for broccoli, and it served as
King Croacus'
main homebase. Nigel and
Ava
trekked through these mines, planting several timed bombs. After Croacus swallowed the last one, Ava pushed the remote and caused the whole cave to explode and crumble.
The Floran Summit is the very top of Planet Flora, and is where Viridi's Nature Factory is stationed. A great war took place here between the Kids Next Doors and Viridi's Forces of Nature.
Residents
Edit
Machi
General Caud
Bacha
Floran Kids Next Door
Stories It's Appeared
Edit